Talkshow #48 – En episk samtale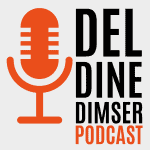 I første podcast efter WWDC Keynoten samler vi op på de nyheder der fylder noget i dimse verdenen. Mobil telefon sæsonen er startet og vi taler om de forskellige mobiler der er lanceret både de billige som One Plus Nord og Pixel 4a, samt de dyre Samsung Galaxy Note 20 + Ultra og Microsofts nye bud på en mobil folde. Microsoft surface DUO.
Og så vender vi naturligvis den Battle Royale som Epic Games har startet mod Apple og for den sags skyld også Google, selv om det virker som om det er Apple der får alle tæskene.
2 giganter der vil have det hele.
God fornøjelse med podcasten.
PS: Skulle du have lyst til at deltage live mens vi optager så sørg for at være medlem af Del Dine Dimsers facebook gruppe.